Skip to Content
Heating Repair Team
Servicing McHenry, Crystal Lake and Surrounding Areas
McHenry Heating & Air Conditioning brings more than 15 years of experience in the heating and air conditioning industry to your home or office when you need a professional inspection. Our repairs include the regular adjustments and proactive fixes during seasonal cleanings, as well as responsive emergency care for any type of heating system that's on the fritz.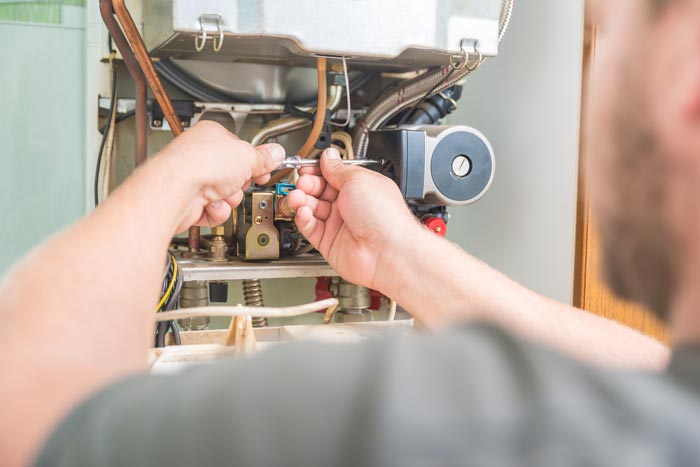 Heating repairs for every home system
We're proud of our professional HVAC team, who have the training and experience to help our residential and commercial customers with a wide range of heating repairs. Homes and businesses in our community rely on many different types of heating systems depending on the age of the building and size of the space, but McHenry Heating & Air Conditioning can fix them all. Contact us for repairs to your property's heater, including:
Forced hot air heating systems
Radiant heaters
Heat pumps
Wall-hung space heaters
Fired water heaters
To address air quality issues in all forms, we consider how humidifiers and air purifiers can improve and protect your overall indoor air quality even when hot, dry air is circulating through the ductwork. For new or gas fired systems, McHenry Heating & Air Conditioning also provides safe gas line installation and repair.
When to seek heating tune-ups and repair
The best way to avoid calling us to repair an unexpected and strange problem with your heating system is to contact us now for regular tune-ups and cleaning. Scheduling maintenance in the spring and fall is usually a good practice for HVAC systems, because the tune-up services will cover the specific needs of your heating system before you turn it off for the summer or on again for the winter. Our technicians will make sure the unit and ductwork are in good repair and free of dust that could create a fire hazard or breathing problem. If we do spot a potential problem during the inspection, we'll be able to fix it right away, which saves you money on repairing a more advanced issue, along with ensuring your system will be up and running when you need it.
Emergency HVAC repairs in a pinch
Even in the worst-case scenario—when, despite your best efforts, your heating goes out in the middle of winter—McHenry Heating & Air Conditioning will be ready to help with 24/7 emergency HVAC repair services. We know the winters in northeast Illinois demand maximum efficiency from heating systems to keep homes comfortable, so whether you encounter a total breakdown or just inconsistent heating that's not doing the job, our HVAC technicians are on call. We even promise same-day service for your home's boiler, heat pump, radiant or forced-air heating system so you and your family can be comfortable again. Call us at 815-444-9900 to get the repairs you need!
Call McHenry Heating & Air Conditioning for heating repairs today!